A 100% one year Guarantee for Genetic Defects comes with your puppy and if you use NuVet for your new puppy, I will give another year Guarantee.
I start potty training at a very early stage. I raise my mikis like my kids, so the transition into your family will go well. If you want DNA testing for your puppy. The Dew Claws are removed. My puppies are very socialized and are in the show ring. There are pictures & videos on the website to show the puppies. Picture & video will be sent by email to show progress of the puppies. Referrals are available from our Veterinarian & Customers when you come to my home. The Puppies will have all their shots, wormed, and vet checked.
AMRA Registered – Parents DNA Tested
Parents tested & passed OFA & Carica for Cardiac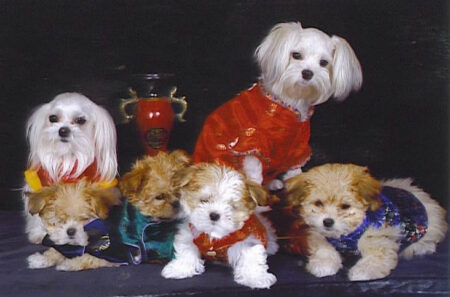 My Mi-Ki puppies are an exceptionally docile, friendly and playful rare toy breed. Being huggable, full of loving affection. Mi-ki's enjoy people of all ages, they get along with other pets. They like to sit on laps, take trips in a car.
Mi-Ki puppies come in all colors, with two types of coats, smooth and rough. Also they carry two ear settings, dropped and erect. Average weight is between 5-8 pounds. They share a common ancestry with the Maltese, Japanese Chin, and the Papillion.
The mi-ki breed is very loving, loyal, playful, yet calm. Mi-kis do not have any major health problems. They are very intelligent. Have a non shedding coat and are wonderful companions for all lifestyles. Very good for the stay at home person too.
Check out our Mi-Ki Puppies for sale page!